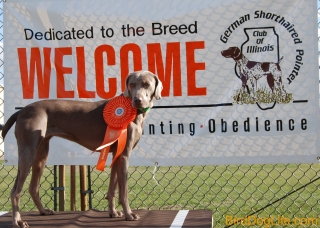 So you've entered your first
AKC pointing breed hunt test
. It's time to show and prove that your pup is progressing into a budding bird dog. Are they ready? More importantly; are YOU ready? Entry fees seem to go up each year making entering these tests quite a gamble to chase paper with your hunting buddy. Below are some links along with other information we've gathered via our experiences with the wonderful people of the WCNI, GSCPI, and VCOI.
First things first; READ THE RULEBOOK. When you're done with that then read it again. It is your sole responsibility to understand what is expected of both you and your pup while on the grounds as well as under judgment. It would be a shame if you were to do something dumb and get your pup's otherwise passing score disqualified; wouldn't it?
A general overview of the AKC hunt test event can be found in the brochure found here.
We're going to assume you've read the rules and promotional material above from the AKC and understand what your dog needs to do in order to receive a qualifying score. Below is an abbreviated list of tips that will help YOU do everything you can to help your dog pass this test. The key point to remember is that your pup is under judgment, not you. That being said there are a number of things you can do to help show your pup in the best light possible to improve your chances of getting a passing score.
Check in the the test secretary upon arrival. Get a copy of the current running order. Find out where they are at in the order if the even has already started. You can use this information to judge how long it will be roughly until your brace is up.
Follow your normal routine. Hunt test days are stressful on both you and your dog. The more you can do to make this like another other hunting or training day the less stress you'll impart onto your dog. A stressed out dog is not a strong performing dog.
Come prepared for anything. Our article on what gear you might want to bring can be found here.
Arrive early. You should be provided a running order by the secretary of the hosting club. Often times these can be found on the club's web site as well. Generally the Junior tests are run after both the Master and Senior class tests. You never know exactly when you will run however. Sometimes dogs are pulled for various reasons. Sometimes people just don't show up! The bottom line here is to be there early in case braces are bumped up and you have to go soon that you might anticipate.
If your dog is wound up or nervous; air them. Most times there is an area available where you can run your pup on a long lead for a few minutes in order to let them relieve themselves and work off some of that nervous energy. If your dog is very hyper it might be a good idea to do this a few times over the course of the day while you wait for your run. A dog that is wound too tight will often just run madly through the course and not listen to your commands which will cost you in trainability scores!
Bring a water bottle in your vest for the pup. These dogs work hard! Chances are the temperatures are warm and your dog will be thirsty. There is no rules discouraging watering your dog on course. A well hydrated dog keeps it's mouth closed longer allowing maximum amounts of air to cross their olfactory nerves as they breathe through their nose.
Check your running order to find out if your pup is listed first (top) or second (bottom) in your brace. Tradition/unwritten rules dictate that the top dog usually wears an orange collar. Bottom dog wears yellow/green.
Rules dictate that your dog can wear two collars. However, you cannot use any type of training collars such as pinch, choke, prong, electronic, etc. You also cannot use any sort of dummy training collar. Generally the bigger and brighter the collar you can find helps to maximize visibility and helps you and the judges to locate and distinguish your pup from your brace mate.
Be sociable. Most of the people you encounter at these events are very friendly and will be more than happy to help you with any questions you might have. Many friends and contacts can be made at these events. Hunt tests and field trials are probably the single highest concentration of like minded hunting dog enthusiasts you are going to find.
Following the previous point the absolute best way to become familiar with hunt tests is to talk to your local clubs and volunteer. They are ALWAYS looking for volunteers to plant birds and help with various tasks. The amount of things you can learn from spending a day or two with these people while observing the tests is worth it's weight in gold.
That covers most of what you can do to help your dog previous to your run. Below is more information to keep in mind as soon you leave the breakaway when it's time to sink or swim!
Ask any questions you might have of the judges in a polite and courteous manner before the dogs break away for the brace. Often it is a good idea to ask what path you are going to take around the course so you can make whatever directional changes might be advantageous based on terrain and where your brace mate goes.
While waiting at the break-away for the judges take note of the conditions. What direction is the wind blowing? Make mental notes on how you want to approach the bird field in order to maximize the dog's chances of producing a bird.
Listen at all times for the judges. They will let you know if you need to change course or move your dog.
Make your way through the back-field portion of the course as quickly as possible. There is a possibility of bird contact in this area. However, your dog's chances of finding a bird are at their greatest in the bird field. This is an area at least 5 acres in size and will be marked out with flags or other markers. The more time you spend in the bird field the better off you are.
Be prepared to fire you blank gun at any bird contact. The judges are looking to see if your dog is going to show any signs of sensitivity or shyness to gunfire. Firing blanks at bird contact ensures they see that your pup is not gun shy.
Approach your dog on point head-on in an expedient manner. You must be within shooting range of the bird before it flushes to receive a qualifying score. Approaching head on lets the dog see you and what you are doing. You can also talk to your dog to encourage them to hold.
When firing your blank pistol point the gun down and away from the dogs and the judges/their horses. You know how much your ear hurts when you shoot that pistol? Why direct it at others?
Encourage your dog! After speaking with a few judges we learned that they see a lot of dogs that give lackluster performances because their handlers are nervous and tight, afraid to get their dogs excited. Run with your dog, encourage them! The more excited you can get them the better they will do!
That being said, use commands to your dog sparingly. You will take a big hit in trainability points if you are constantly yelling at your dog or blowing a whistle. Your dog knows what it's here to do. Let him work! You can't lose points for commands your dog didn't obey if you didn't give them in the first place.
Trust your dog. The whole reason you use pup to hunt is for that nose on his face. He knows where to find birds. Don't attempt to over-handle the pup into a bird. If your dog is doing what it needs to do to pass he will just need subtle guidance as to course and the general area you'd like the dog hunt.
When approaching the bird field make your best attempt at spreading out away from your brace mate. Keeping the dogs apart helps to reduce tagging, point stealing, chasing, and other undesirable actions. Remember most dogs in the Junior class tests are young dogs with little (and sometimes no) training. Chances are you and your pup are better off on your own!
When the judges call time leash your dog and return to the parking lot. Thank the judges for their time. Remember these people are essentially volunteering their time so that you and others can enjoy their dogs. A little common courtesy goes a long way.
HAVE FUN. At the end of the day we do these things with our dogs because we enjoy our dogs. Remember, your dog can't read a title and doesn't care what letters you stick after his name. Enjoy the extra time afield you're given and have as much fun as you can!