As most of the public upland hunting seasons begin to wrap up and we progress through the end of the preserve hunting season we all tend to start to get cabin fever waiting for warmer weather.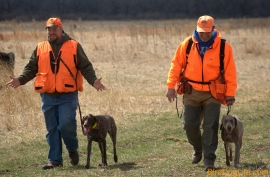 Our dogs get lazy and fat, the gear gets packed away until next year. This year I'd like to suggest an alternative to putting your pup on the bench until the weather warms up. Early spring is a wonderful time to learn the ropes of AKC pointing dog hunt testing. The dogs are in hunting shape and should be good and birdy. Why not get them a few more cheap runs on birds with the chance to earn an AKC title?
What is an AKC hunt test?
In a very basic sense AKC hunt tests are competition events hosted by AKC member clubs in which handlers run their dogs under judgement against a set standard of performance in an attempt to earn qualifying legs of a title such as Junior, Senior, or Master Hunter. The purpose of these tests is to demonstrate a dogs ability to perform in the field in a manner consistent with which it was bred.
Hunt test? Field Trial? What's the difference?
Aren't they all the same? The simple answer is: No. Hunt tests are sponsored by the AKC and even though they run in pairs, the dogs entered are being judged against a written standard for whatever level your pup is running at. This is the key difference between hunt tests and field trials. Field trials are sponsored by both the AKC as well as many other bodies such as American Field and the National Shoot to Retrieve Association. These events are direct dog-against-dog competition to determine which dog performs in the field in the most pleasing manner.
How do I get started?
The first thing to do is to review the AKC web page for hunt tests and the rule book associated with your class of test. Find out what class you and your pup want to work towards and begin training and/or polishing for the class in which you intent to compete. After having competed in a few hunt tests myself I can tell you that the best way to learn more about them is to visit a hunt test sponsored by a local club. The people at these events are often very friendly and willing to help a newcomer learn the ropes.
Once you know the basic rules and have begun preparing it's time to find out when you want to compete. There are a number of ways to find events. You can check with your local dog clubs, the DNR event calendar, and more. However, the easiest method to find AKC sanctioned events is to use the AKC event search for pointing dog hunt tests.
Once you select an event you'll need to register. To do so you'll need to complete and submit a premium for the event you wish to enter. This information can be found at either the dog club web site or the AKC listing for the event. Be mindful that these events have a deadline within which your premium must be received. You can find this date as well as the location the premium must be mailed to on the premium itself.
Judgement day
So the day has come. You've trained, you've studied the rules, you're ready to rock. The important thing is to be calm and confident. Your dogs read a lot of what you think and feel through your body language and emotion. If you're out of control and wildly nervous they will be too. Fear not; those of us at Bird Dog Life are here to help. Before you leave for the day of the event review our pointing dog hunt test tips and our hunt test gear check list for a lot of hints, tips, and ideas to help make your first hunt test experience a positive and successful one!
Once you arrive remember to check-in with the secretary so they know you are here. You should also obtain a running order at this point if you have not already. This allows you to roughly time when you can expect to run so you can make preparations. Once you're there and checked in your focus is solely to relax and enjoy the event. Meet the people. See the dogs. As I stated earlier a great majority of the people at these events are members of dog clubs and have a vested interest in the dogs and the event. Many of them are very friendly people who can be extremely valuable resources not only in the world of hunt tests but for dog training, breeder info, availability of contacts for training materials, etc.
Show time!
At some point during your day your brace will be called to the line to compete. This is it. This is what you've prepared for. If you've done the reading and you've done your training there is nothing to worry about! Listen closely to the judge's instruction and enjoy this moment with your dog. Compete as best you can being considerate to your brace mate and a good sport no matter what happens. When your run is complete; thank the judges for their time. Remember, they are volunteers and do this for the love of the sport just like we do.
Did we pass?
After your run the judges will calculate your scores. Each judge scores your run and they must agree on a final scoring for your dog. In order to earn a passing score you must get an average of 7 in each of the four scoring categories for a total of 28 of 40 to pass. However, you also must not score lower than a 5 in any one category. Doing so is an automatic fail. I won't get into a lot of the details of scoring here. The guidelines are thoroughly covered in the regulations the test.
The bottom line
The bottom line is that AKC hunt tests are just another way for you to enjoy spending time with your dogs. Watching them do what they were bred to do and do it well is one of the greatest rewards of getting and raising these dogs. Pass or fail; remember to have fun and try to make friends a long the way!
Here are some useful links:
American Kennel Club (AKC) event search

AKC pointing dog hunt test regulations
AKC pointing dog hunt test web page
AKC retriever hunt test regulations