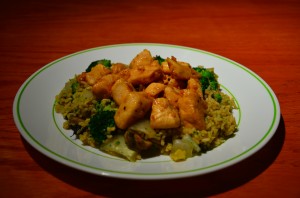 These grilled pheasant skewers are a quick and easy Asian twist on what to do with pheasant breast!  We normally serve these lightly sprinkled with sesame seeds on top of a bed of vegetable fried rice.  You might want to double what you think you'll need; these go fast!  Serves four.
Ingredients:
4 pheasant breasts (around 2lbs)
8-10 bamboo skewers; soak in water for AT LEAST 30 minutes.
1/4 cup of soy sauce (good stuff if you can find it, you will taste the difference)
2.5″ piece of fresh ginger; peeled and finely chopped
6 cloves of garlic; chopped
3/4 cup of honey
To prepare:
Light your grill.  If using a gas grill put one side on high and the other on medium-low heat.  We want a zone to cook the chicken initially and a lower heat zone for finishing the glazing process so we don't burn the honey.
While the grill is warming soften the ginger and garlic in a small sauce pan with a small amount of vegetable oil.  We don't want to fully cook or burn the garlic or ginger, just warm and soften it.
Stir in the soy sauce and the honey and allow to simmer for 3-4 minutes until the honey melts and ingredients mix well.  Stir frequently.
Remove the glaze from heat and set aside.
Slice your pheasant breasts into roughly one inch chunks.
Slide the chunks of pheasant onto the well soaked skewers.
Place the pheasant skewers over high heat and cook for about 5 minutes on the high-heat side.
Flip the pheasant skewers over and move to the medium-low heat side of the grill.
Begin to brush on the glaze over the pheasant continuously for another five minutes or until your pheasant is fully cooked.  *Do not over-cook your pheasant.  This is the fastest way to ruin an otherwise delicious game bird.
Remove from grill and serve with your choice of side!
Tips:
Lightly coat your measuring cup with oil before putting the honey in it.  This will prevent the honey from sticking to the cup.
If you are using a charcoal fired grill, place all your coals to one side in order to create a high-heat zone and a low-heat zone.
Sprinkle some toasted sesame seeds over the pheasant skewers for an added touch.