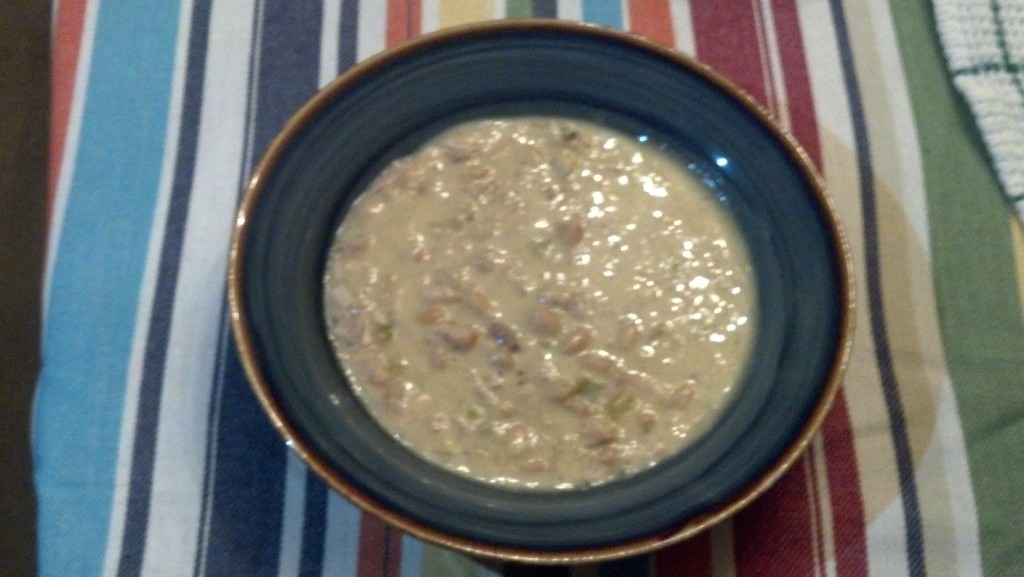 Ingredients:
2-3 pheasants
1 medium onion diced
2-3 cloves of garlic pressed or minced
3 cans (15 oz) Great Northern beans
2 cans (14.5 oz) Chicken Broth
2 cans (26 oz) Cream of Chicken soup
1 can (7 oz) chopped Green Chilies
2 tsp Salt
2 tsp Ground Cumin
2 tsp Dried Oregano
1 tsp Black Pepper
½ tsp Cayenne (or Red) Pepper
16 oz Sour Cream
To prepare:
1. Put pheasants in a stock pot and cover with cold water. Bring to boil over high heat. Reduce the heat to a simmer and cook for about an hour or until you see meat has been cooked. (I like to add salt, pepper, minced garlic, a halved onion or two, carrots, and celery so that I am also making a pheasant stock.)
2. Pull pheasants from the water and let cool. Once cool pull as much of the meat as you can off the bones.
3. Sauté the diced onion and garlic in olive oil till onions are translucent.
4. Mix everything well, into a large 6 quart or larger slow cooker. Cook on high for a couple of hours and then simmer till ready to eat.
5. You can add more cream of chicken soup or less chicken stock to change the consistency of the chili.
Makes about 4-5 quarts of chili.
Suggested variations: Use the pheasant stock in lieu of the cans of chicken stock. Also adding Chipotle powder to the mix, adds a bit of a smokey and spicier chili flavors!