As I prepare myself for a fun December hunt at the Green River State Wildlife Area it occurred to me that the weather is going to be relatively chilly.  Now, the forecasted 19 degrees and sunny really isn't downright nasty.  Especially not for our friends to the North and West.  It did cause me to think about what I would bring on this adventure in an attempt to stay warm.  Below is my current list of sub-20-degree weather clothing I use while hunting.  Some of this gear I'm really happy with.  Some of it might be subject to change at any given time.  My thoughts and reasoning are included in the descriptions….
Under Armor Cold Gear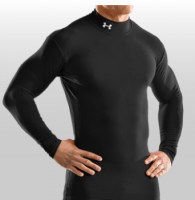 Under Armor has been around for a few years now.  Cold Gear has become a trusted name in the sports realms when you need low-bulk high-performance alternatives to your father's long  johns.  Thousands of professional athletes and hundreds pro sports teams can't be wrong.  Ultimately I broke down and bought your basic Cold Gear mock top one spring when it went on sale.  And trust me; if you like your pocket book, you'd best find this stuff ON SALE.  That being said; I am sold on the stuff.  I've used it not only hunting in some pretty nasty conditions but I have also used it as an under-layer while participating in late fall sports and it works like a charm.  I have since invested in a pair of bottoms to go with the top.  Needless to say; at a reasonable price I am very happy with this stuff.
Columbia Grouse III Pant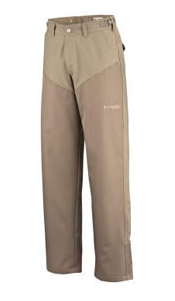 I originally acquired a pair of these pants after my trusty (but most definitely NOT water or even dew-proof) Browning Pheasants Forever field pants busted a side seam for the third time in two years.  Columbia has packed a lot of their proven technologies such as Omni-shield advanced repellency and Hammerhead II poly overlays into these mid-range field pants.  They are a mid-weight pant but are quite waterproof.  I haven't tried them out in a full on rain situation; however, they have stood up well to all the morning dew and snow (so far) that I've cared to trudge through with them.  They are also as tough or tougher when it comes to brush, thorns, and briars.  I'm not 100% sold on these yet as this is my first season with them.  They are getting the job done in a respectable fashion so far though.
Columbia Ptarmigan Parka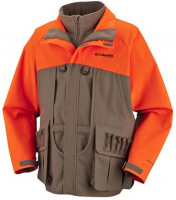 This one I will admit; I originally acquired from my local Cabelas after receiving a 50% off scratch-off coupon upon walking in the door last fall during a Christmas sale.  Now that I have it I don't think I'd give it up before anything else in my gear collection.  This jacket features all the same technology the Grouse III pants have plus a lot of the features you look for in a higher end Columbia jacket.  D-rings for attaching miscellaneous gear, shell loops, inner pockets for items you need to keep secure, zippered vents under the arms for when the temps go up, all topped off with an adjustable front-loading game pouch.  This jacket also features the older style Interchange system with the larger zippers.  It just so happens that all of the liners I have for my nicer Columbia jacket fit perfectly into this jacket as well.  I found the included vest liner to be at best minimally useful for actual cold weather.  However, a nice hoodie or any of my heavier Interchange liners have filled this gap quite nicely.  The only two things I'd change if I could would be to include adjustable load straps for when the game pouch fills up.  It can get rather heavy after you load up a limit's worth of pheasants.  The only other minor thing I'd change would be to move the shell loops internal to the pockets.  This is just a minor thing and is more personal preference than anything.
Columbia Titanium Bugaboot XTM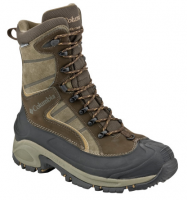 Yet another fantastic Columbia product!  I know, I know.  This is beginning to sound like a Columbia ad.  Well, rest assured, I received no payment for any of the information you've read so far.  I am not a shill paid off by corporate America to espouse the wonders of these impossibly good products.  I picked this boot after my last pair of Red Wing waterproof boots bit the dust.  For those of you who do not know, boots and I tend to not get along.  I have summer jobs that require tall work boots with steel toes and involves wandering around for 20+ hours a week in some relatively harsh chemical environments.  Needless to say I go through boots like water sometimes.  That being said; when I decided to get a new pair a boots I decided they needed to do dual duty.  They were going to be my waterproof winter hunting boots.  But they also had to be acceptably warm and relatively passable to wear while hiking and general use around the neighborhood and other winter sports activities.  These boots are definitely waterproof.  They also come packed with 600 grams of Thinsulate which makes them more than warm enough even with light socks on in the coldest of days we see here in the Midwest.
Hats, Gloves, the little things I always forget…
I do have anything special in terms of hats and gloves.  No more Columbia gear, I promise.  Typically unless it is really windy or downright COLD out I usually sport the required blaze orange cap.  This is normally either the HatCam or whatever fitted  cap I can find that suits my fancy.  On days when there is some wind or a strong chill I slap an ear band on over the hat.  Only when it's downright ugly hunting conditions do I break out the stocking cap!  Sometimes I also use a neck/face gaiter to help block the wind.  Other than that I like to go with light liner style gloves for the improved dexterity and feel over heavier sporting gloves.  The Ptarmigan has wonderful pockets for hand warmers!  On cold days I have been known to layer a 2nd set of light gloves for increased warmth.
There you have it.  A basic run down of what I'm probably bringing to hunt on Saturday.  If all goes well I'll report on how it works out afterward!  What about you?  How much (or little) do you don to hunt in 0-20 degree temps?